Welcome, Gina Rodriguez!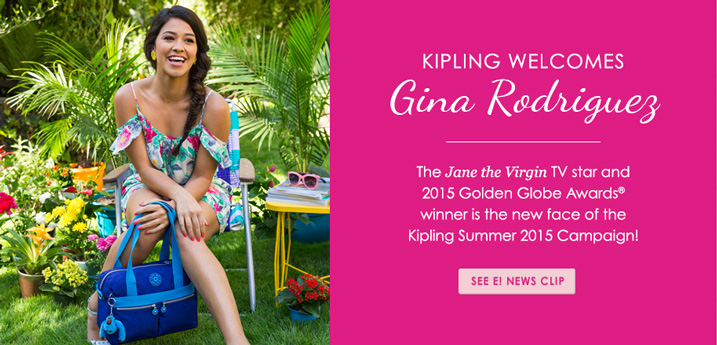 We'd like to extend a warm welcome to Gina Rodriguez, as the new face of the Kipling Summer 2015 campaign! - Check out the E! News video exclusive below!
The Kipling family is proud to announce that the Jane the Virgin star and 2015 Golden Globe Award winner is our new 'Make Happy' brand ambassador for Summer 2015. About the new relationship, Gina says, "To me, Kipling has always embodied the perfect blend of comfort and femininity. When I was a teen, I saw my first Kipling bag with the cute monkey and wanted one so bad but couldn't afford it. I saved my allowances and eventually bought my first one all by myself. I kept that bag for over 10 years. Now I get to be a part of this beautiful movement. I love the way life works itself out – it's full circle.".
Julie Dimperio, President of Kipling North America, comments, "Welcoming Gina as brand ambassador for our Make Happy movement is an absolute delight. Gina's approachable personality and carefree style align perfectly with the Kipling brand, and we're honored to have her join the Kipling family."
Please join us in welcoming Gina to the Kipling family, and look for some great fashion tips and tricks this summer as we continue to Make Happy with Gina as a part of our team!
Check out the full story at E! Online!