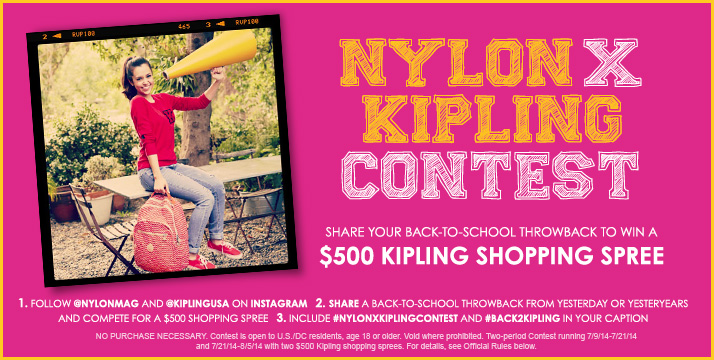 NYLON MAGAZINE + KIPLING #BACK2KIPLING CONTEST RULES
OFFICIAL RULES: NO PURCHASE NECESSARY TO ENTER OR WIN THIS CONTEST.
1. Sponsor/Promotion Partner: NYLON Media, Inc. d/b/a NYLON Magazine, 110 Greene Street #607, New York, NY 10012 ("Sponsor").
VF Sportswear, Inc. on behalf of its Kipling North America division ("Kipling" or "Promotional Partner"), 11 W. 19th Street, New York, NY 10011.
2. Eligibility: The NYLON Magazine Kipling Contest ("Contest") is open only to legal residents of the fifty (50) United States or the District of Columbia, who are at least eighteen (18) years of age or older, or the age of majority in their state of residence whichever is older, as of the date of entry and who have an active e-mail account or Instagram account (with a public profile), and Internet access prior to the beginning of the Contest. To participate, entrants must have an Instagram® account that is open to the public (an account where anyone can subscribe to follow your photos). You are not eligible to participate if your Instagram account is set to the special private option (where a user must approve all follow requests). Any individuals (including but not limited to employees, consultants, independent contractors, and interns) who have, within the past six months, performed services for Sponsor, VF Sportswear, Inc. their licensees, and/or their respective parent, subsidiary, affiliated and successor companies and "immediate family members" and "household members" of such individuals, are not eligible to enter the Contest or win a prize. "Immediate family members" shall mean parents, step-parents, children, step-children, siblings, step-siblings, or spouses, regardless of where they live. "Household members" shall mean people who share the same residence at least three months a year, whether related or not. Potential winners may be required to provide proof of U.S. legal residency upon request prior to prize award. All federal, state and local laws and regulations apply. Void in Puerto Rico and outside of the 50 United States and DC and where prohibited or restricted by law. Sponsor reserves the right, at any time, to verify eligibility requirements, in any manner it deems appropriate.
3. Timing: Contest consists of two separate judging periods. Contest Period I begins on or about 9:00:00 A.M. (all times are Eastern Daylight Savings Time or "EDT") on July 9, 2014, and ends at 9:00:00 A.M. on July 21, 2014 ("Contest Period I"), with the winner judged on or about 7/23/14. Contest Period II begins on or about 9:00:01 A.M. on July 21, 2014, and ends at 11:59:59 P.M. on August 5, 2014 ("Contest Period II"), with winner judged on or about 8/12/14. Sponsor's clock shall be the official timekeeper for the Contest.
4. HOW TO ENTER (online or via email)
a.) Visit www.Instagram.com ("Contest Website") and follow @nylonmag and @KiplingUSA. If you do not have an existing Instagram account, one can be opened for free at www.Instagram.com or by downloading the free Instagram app to your mobile phone. This Contest is in no way sponsored, endorsed or administered by, or associated with, Instagram. If you choose to enter via a mobile phone, data rates may apply and entrants should contact their wireless provider for pricing plan details.
b.) Submit a photograph to represent a "throwback" school image of yourself ("Entry") to share a favorite back-to-school moment, whether it's a throwback classic from years ago or a current back-to-school look from yesterday ("Contest Theme"). Entries will be judged by the following criteria: a.) originality (40%); b.) appropriateness to Contest Theme (40%); and c.) clarity of photo (20%). In the event of a tie, the entry with the highest grade for criteria "b" will be judged as the winner. Photograph format must comply with Instagram's Terms and Conditions posted on its website and Kipling requirements posted below in these Official Rules.
c.) Share the Entry on Instagram with #NYLONxKiplingContest and #Back2Kipling in caption.
d.) Optional Additional Caption: Your Entry may also include a caption to describe your entry. Caption must be in English and may not exceed 200 characters in length.
Limit of one (1) entry per person or e-mail address or Instagram account during Contest Period I and Contest Period II. Multiple entries in excess of any stated limitations or mass entry attempts by any method will result in disqualification of all entries by such person/Instagram account. Entrants who do not follow all instructions, provide the required information to be eligible to win, or abide by the Official Rules or other instructions of Sponsor may be disqualified from the Contest. Any mechanical reproductions or automated entries are prohibited, and any use of such automated devices will cause disqualification. If a dispute arises regarding the identity of an entrant, the rightful owner (or authorized user) of the e-mail or Instagram account associated with the Entry will be considered the entrant. Please see the Sponsor's privacy policy at www.nylonmag.com and Promotional Partner's privacy policy at https://www.kipling-usa.com/privacy-policy-kip/privacy-policy-kip.html for details regarding use of personal information collected in connection with this Contest.
Entry Requirements:
Photograph uploaded for use in entering this Contest should be an original, unpublished picture.
Photograph must be in a format and file size acceptable by Instagram.
Entry CANNOT
be sexually explicit or suggestive, or derogatory of any ethnic, racial, gender, religious, professional or age group or the disabled, be profane or pornographic, or contain nudity;
promote alcohol, illegal drugs, tobacco, firearms/weapons (or the use of any of the foregoing), any activities that may appear unsafe or dangerous, or any particular political agenda or message;
defame, misrepresent or contain disparaging remarks about other people or companies;
contain any prominent use of trademarks, logos or trade dress (such as distinctive packaging or building exteriors/interiors) owned by others as determined by Sponsor, or advertise or promote any brand or product of any kind (except for Sponsor's brand and products), or contain any personal identification, such as license plate numbers, personal names, e-mail addresses or street addresses;
contain prominent copyrighted materials owned by others (including photographs, videos, sculptures, paintings and other works of art or images published on or in websites, television, movies or other media) as determined by Sponsor;
contain materials embodying the names, likenesses, photographs, or other indicia identifying any person, living or dead without permission;
communicate messages or images inconsistent with the positive images and/or goodwill to which Sponsor wishes to associate; and
depict and cannot itself be in violation of any law or otherwise.
depict or otherwise identify a minor unless a parent or legal guardian is the entrant.
By entering you represent and warrant and agree that:
a.) If any person other than yourself is depicted in the Entry you have received permission from the person(s) depicted in the Entry ("Third Party Participant") or the person's parent or legal guardian if the person is a minor in his or her state, and the Entry submitted by you is original and not copied from any other work and does not infringe upon the rights of any third party and to the extent any elements were created by a third party ("Third Party Participant"), you own all right, title and interest to said elements of the Entry to enable you to grant the rights granted herein.
b.) The Photograph entered may not have been previously published and must not infringe upon the copyrights, trademarks, rights of privacy, publicity or other intellectual property or other rights of any person or entity. If the Photograph contains any material or elements that are not owned by the entrant and/or which are subject to the rights of third parties, the entrant is responsible for obtaining, prior to submission of the Photograph, any and all releases and consents necessary to permit the use and exhibition of the Photograph by Sponsor in the manner set forth in these Official Rules. Sponsor reserves the right to request proof of these permissions in a form acceptable to Sponsor from any entrant at any time. By submitting a Photograph, entrant warrants and represents that he/she consents to the submission and use of the Photograph as stated herein.
Entries that are late, illegible, incomplete, unreadable, damaged, destroyed, delayed, lost, tampered with, incomprehensible, forged, mutilated, misdirected, inaccurate, unintelligible or otherwise not in compliance with these Official Rules will be disqualified. All entries generated by a script, macro or other automated/repetitive electronic means (except as permitted in these Official Rules) will be disqualified and ineligible for the Contest. All entries become the property of Sponsor and Promotional Partner will not be acknowledged or returned.
5. Use of Entries: Once an entry is submitted by an entrant, it cannot be changed, altered or modified by the entrant and will not be returned. By submitting your entry you, on behalf of yourself and any Third Party Participants grant Sponsor, Promotional Partner, and their designees an unlimited, worldwide, perpetual, royalty-free license and right to publish, use, edit, adapt, modify and/or publicly perform the Entry in any way, in commerce and in any and all media worldwide now known or hereinafter developed, without limitation and without notice or consideration of the entrant. WITHOUT LIMITING THE FOREGOING, BY SUBMITTING AN ENTRY, ENTRANT ACKNOWLEDGES THAT HIS/HER ENTRY MAY BE EDITED IN SPONSOR'S SOLE DISCRETION AND POSTED ON THE INTERNET, THE www.NylonMag.com ("SITE") OR ANY WEBSITE/SOCIAL MEDIA PAGE IN CONNECTION WITH THIS CONTEST AND THE ADVERTISING, PROMOTION AND PUBLICITY OF THE CONTEST AND ARE THE VIEWS/OPINIONS OF THE INDIVIDUAL ENTRANT AND DO NOT REFLECT THE VIEWS OF SPONSOR OR IT DESIGNEES IN ANY MANNER. Any waiver of any obligation hereunder by Sponsor does not constitute a general waiver of any obligation to entrants. Notwithstanding anything to the contrary, however, there is no obligation of the Sponsor or any other person or entity to post or make any use of the entry of any particular entrant.
Sponsor reserves the right to, and may or may not, monitor/screen entries prior to posting to NYLON's Instagram handle, @nylonmag. Sponsor is under no obligation to disclose why an Entry has been disqualified other than the Entry was ineligible under these Official Rules. Entrants agree not to issue any publicity concerning the Contest Entities (defined below in these Official Rules).
6. Determination of Winner/Notification: Winners will be determined by a panel of judges comprised of NYLON Magazine employees. Limit of one (1) prize per household. Potential winners will be notified by Sponsor via Instagram and required to provide Sponsor with an e-mail address within three (3) business days of notification. Then, potential winners will be asked to complete and return a Prize Acceptance/Address Verification Form ("Acceptance Form") within seven (7) days of notification, where allowed by law. If the Acceptance Form is not returned within the specified time period, or if a notification or prize is returned as non-deliverable or if the potential winner is found to be ineligible or otherwise not in compliance with these Official Rules, the potential Winner may be disqualified. If the potential winner is disqualified for any reason, prize may be awarded to a runner-up winner in accordance with these Official Rules. If there are no eligible entries, Sponsor reserves the right to not award any prize.
7. Prizes and Approximate Retail Value ("ARV"): One (1) winner per Contest Period I and Contest Period II will each receive one (1) $500.00 shopping spree at www.kipling-usa.com. Terms and conditions regarding online gift certificate use apply. Total ARV of all prizes: $1,000.00. Any unused balance of funds will not be awarded as cash. Prize claim must be completed no later than sixty (60) days past the date the winner is notified. Any expenses not mentioned above are the winner's responsibility. Kipling product prize images advertised represent current ARV. Sponsor is not responsible if prize images advertised are out of stock at the time of prize redemption. No substitution or transfer of prize except with Sponsor's permission (which may be granted or withheld for any reason) or where required by law. Sponsor in its sole discretion may award a substitute prize/prize component of equal or greater value if advertised prize/prize component is unavailable at time of awarding for any reason. If a potential prize winner cannot accept a prize as stated herein, that prize may be forfeited in its entirety and awarded to a runner-up winner. Federal, state and local taxes, if any, are the sole responsibility of the winner.
8. Liability Limitations: Contest Entities (as defined below) are not responsible for failed, partial or garbled, corrupt or jumbled computer transmissions, or for technical failures of any kind, including but not limited to electronic malfunction, programming errors or failures, or damage or failure of any network, hardware or software. If for any reason the Contest is not capable of running as planned, as solely determined by Sponsor, including but not limited to by infection by computer virus, bugs, tampering, unauthorized intervention, fraud or technical failures that can corrupt or affect the administration, security, fairness, integrity or proper conduct of the Contest, Sponsor reserves the right, in its sole discretion, to cancel, terminate, modify or suspend the Contest. In such event, Sponsor shall conduct the Contest and award the Contest prize from all eligible entries received prior to and/or after (as appropriate as solely determined by Sponsor) or otherwise award the Contest prize in a manner that is fair, appropriate and consistent with the spirit of these Official Rules, as determined by Sponsor in its sole discretion. Notice of cancellation/termination/ modification/suspension of Contest will be posted on the Site. The right is reserved by Sponsor to disqualify any individual found, at its sole discretion, to be tampering with the entry process or the operation of the Contest or Contest Website or Site, to be acting in violation of the Official Rules; or to be acting in a non-sportsmanlike or disruptive manner, or with intent to annoy, abuse, threaten or harass any other person. No responsibility is assumed for any error, omission, interruption, deletion, defect, delay in operation or transmission, communications line failure (whether wireless or Internet), theft or destruction or unauthorized access to (or any problems or technical malfunctions of) any telephone network or lines, computer online systems, servers, or providers, computer equipment, software, failure of any e-mail or electronic entry to be received (or the incorrect or inaccurate capture of registration, entry or other information, or the failure to capture, or loss of, any such information) on account of technical problems or traffic congestion on the Internet or at the Contest Website or Site, or any combination thereof. Contest Entities are not responsible for any injury or damage to entrant's or any other person's computer related to or resulting from participation in or downloading any materials from this Contest. Further, Contest Entities are not responsible for any incorrect or inaccurate information, whether caused by website users, tampering, hacking, or by any of the equipment or programming associated with or utilized in the Contest. Entrants further agree not to damage or cause interruption of the Contest and/or prevent others from participating in the Contest. CAUTION: ANY ATTEMPT TO DAMAGE ANY ONLINE SERVICE OR WEBSITE OR UNDERMINE THE LEGITIMATE OPERATION OF THE CONTEST VIOLATES CRIMINAL OR CIVIL LAWS. IF SUCH AN ATTEMPT IS MADE OR AN INDIVIDUAL OTHERWISE ATTEMPTS TO DEFRAUD SPONSOR, SPONSOR MAY DISQUALIFY ANY ENTRANT MAKING SUCH ATTEMPT AND SEEK DAMAGES TO THE FULLEST EXTENT OF THE LAW.
9. Conditions: By participating, entrants agree to be bound by and abide by these Official Rules and the decisions of Sponsor shall be final and binding in all respects, and the decisions of the Sponsor, which are final and binding in all respects and cannot be appealed. By participating in this Contest, entrants agree to allow Sponsor to share personal contact information with Promotional Partner. By participating in this Contest, entrants agree to release and hold harmless Sponsor, Promotional Partner, their parent, subsidiary, affiliated and successor companies, advertising and promotion agencies and/or prize suppliers, Instagram, Sweepstakes Consulting LLC, and each of their respective officers, directors, agents, representatives and employees, as well as each of their respective successors and assigns (collectively and individually, the "Contest Entities") from any and all actions, claims, injury, loss or damage (whether due to negligence or otherwise) to person(s), including death, or property, or infringement upon any third party's rights, (including but not limited to, copyright, patent or trademarks/tradenames/logos, or rights of privacy or publicity, or inclusion of material that is or may be considered defamatory, slanderous or libelous, or portray or depict any person, product or entity in a false light) arising in any manner, directly or indirectly, in whole or in part from participation in this Contest, or any Contest related activity, or breach or failure of any warranty or representation, and/or acceptance, possession, misuse or use of any prize. By accepting a prize, prize winner authorizes Sponsor and Promotional Partner, and those acting pursuant to Sponsor's authority to use his/her name, voice, likeness, photograph, prize information, biographical data and city and state of residence in any media know known or hereafter discovered, worldwide, including on the World Wide Web and Internet, in perpetuity, at any time or times, in programming, advertising, trade and/or promotional material or on a winner's list (if applicable) without additional compensation (unless prohibited by law) or notice, review or approval. Sponsor is not obligated to use any of the above mentioned information or materials, but may do so and may edit such information or materials, at Sponsor's sole discretion, without obligation or compensation.
IN NO EVENT WILL CONTEST ENTITIES BE RESPONSIBLE OR LIABLE FOR ANY DAMAGES OR LOSSES OF ANY KIND, INCLUDING DIRECT, INDIRECT, INCIDENTAL, CONSEQUENTIAL OR PUNITIVE DAMAGES ARISING OUT OF YOUR ACCESS TO AND USE OF THE CONTEST WEBSITE OR SITE OR THE DOWNLOADING FROM AND/OR PRINTING MATERIAL DOWNLOADED FROM SAID CONTEST WEBSITE OR SITE. WITHOUT LIMITING THE FOREGOING, EVERYTHING ON THIS SITE IS PROVIDED "AS IS" WITHOUT WARRANTY OF ANY KIND, EITHER EXPRESSED OR IMPLIED, INCLUDING BUT NOT LIMITED TO, THE IMPLIED WARRANTIES OF MERCHANTABILITY, FITNESS FOR A PARTICULAR PURPOSE OR NON-INFRINGEMENT. SOME JURISDICTIONS MAY NOT ALLOW THE LIMITATIONS OR EXCLUSION OR LIABILITY FOR INCIDENTAL OR CONSEQUENTIAL DAMAGES OR EXCLUSION OF IMPLIED WARRANTIES SO SOME OF THE ABOVE LIMITATIONS OR EXCLUSIONS MAY NOT APPLY TO YOU. CHECK YOUR LOCAL LAWS FOR ANY RESTRICTIONS OR LIMITATIONS REGARDING THESE LIMITATIONS OR EXCLUSIONS.
10. Disputes: Arbitration/Choice Of Law: Except where prohibited, entrants agree that: (1) any and all disputes, claims, and causes of action arising out of or connected with this Contest, or any prize awarded, or the determination of the winner, shall be resolved individually, without resort to any form of class action, and exclusively by arbitration pursuant to the Rules of the American Arbitration Association, then effective, and (2) any and all claims, judgments and awards shall be limited to actual out-of-pocket costs incurred, including costs associated with entering this Contest but in no event attorneys' fees; and (3) under no circumstances will entrant be permitted to obtain awards for and entrant hereby waives all rights to claim punitive, incidental and consequential damages and any other damages, other than for actual out-of-pocket expenses, and any and all rights to have damages multiplied or otherwise increased. All issues and questions concerning the construction, validity, interpretation and enforceability of these Official Rules, or the rights and obligations of entrant and/or Contest Entities in connection with the Contest, shall be governed by, and construed in accordance with, the laws of the State of New York, without regard for conflicts of law doctrine, and all proceedings shall take place in the City of New York, County of New York.
11. Privacy Policy: The entry information provided is subject to the privacy policies found at www.nylonmag.com and https://www.kipling-usa.com/privacy-policy-kip/privacy-policy-kip.html.
12. Winners List: For a list of winners, mail a self-addressed, stamped envelope to: NYLON Magazine #Back2Kipling Contest Winners List, 110 Greene Street #607, New York, NY, 10012 to be received no later than September 30, 2014.