A complete guide to lightweight luggage
If you're always on the move, you need luggage that won't weigh you down. Whether you're headed out of town for the weekend or backpacking for a month, pick a travel bag that is lightweight with ample packing space. But, what bags are considered to be "lightweight", and how much do they actually weigh? Luckily, we have answers for you.
The best luggage is ultra-lightweight with adjustable straps and multiple zippered pockets. As you browse your options, keep in mind that the right luggage depends on your needs. For instance, if you're looking to travel without a checked bag, pick something that's an approved carry-on size.
Toting breakables or valuables? You'll want a hard shell suitcase with a polycarbonate coating to guarantee your personal items are protected.
At Kipling, our mantra is "Live Light" for a reason. We've engineered all our bags with practicality in mind. That means our variety of stylish, lightweight backpacks and luggage are built to handle it all (so that you can, too.)
What is lightweight luggage?
Lightweight luggage is specifically designed to be as light as possible when empty. Weighing in at under 9 pounds, most lightweight suitcases are made from an extremely durable rip-proof material with an aluminum or fiberglass frame.
Have you ever tried to board a flight with your carry-on luggage, only to be stopped at the gate with your bag marked overweight? We've all been there. That's why we specifically designed our luggage to be both lightweight and durable.
The bulk of the weight of luggage lies in the frame, the materials it's made of, as well as any bonus features, including exterior pockets, carry handles, and straps. That's why the ultimate lightweight luggage is designed with innovation and minimalism in mind.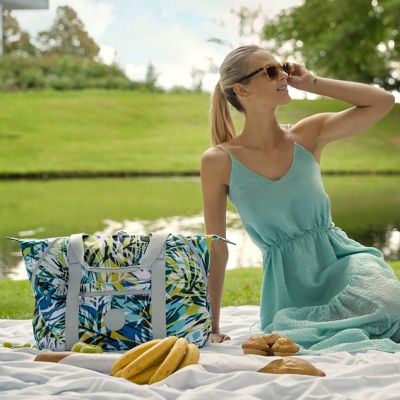 Summer, sun, and plenty of space for your essentials? Check, check, and check.
Both softshell and hardshell luggage make excellent options. It really all comes down to what you're bringing with you, where you're going, and your own personal style. The best soft-sided lightweight bags are made of a durable nylon material with multiple front zip pockets and a retractable handle.
If you're looking for gear that can fit in the overhead bin, our lightweight luggage bags are the way to go. Featuring multiple mesh pockets and a spacious main compartment, our hard and soft shell bags easily fit into the overhead bins.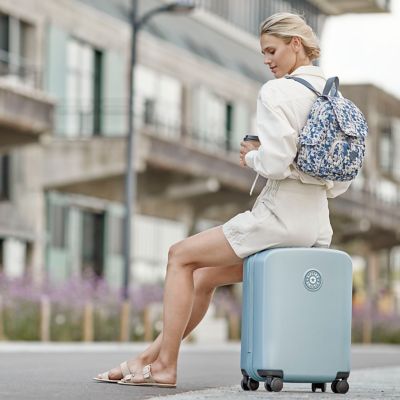 If you're looking to get way more for less, you can't go wrong with the Curiosity Small Luggage.
Not all bags are built alike. While lightweight luggage might seem extremely fragile at first glance, high-quality bags with a durable, water-repellent construction can last a lifetime of adventure. While some lightweight luggage options from lesser-known brands can fall apart after a few uses, the best luggage has a durable polycarbonate frame like the Curiosity Small 4 Wheeled Rolling Luggage.
While the average weight of an empty suitcase is approximately 9 pounds, lightweight luggage can weigh as little as 4 pounds depending on the size. The lighter the bag, the better your odds at avoiding unnecessary baggage fees.
With so many airlines (especially budget flights) boasting heavy baggage fees even if your bag is half a pound overweight, lighter carry-on bags or checked luggage are a must. Large lightweight suitcases tend to weigh between 8.5 and 13 pounds, measuring approximately 30 inches.
Most medium-lightweight suitcases, on the other hand, weigh between 5 and 7 pounds. The best lightweight carry-on bags can weigh even less, or as little as 4-6 pounds total.
What is the best brand of lightweight luggage?
The best brand of lightweight luggage is Kipling. A leader in the luggage market since the early 1990s, Kipling has continued to create luggage that is innovative, durable, and lighter than ever. Whether you're looking to upgrade your carry-on or need a new suitcase, you can't go wrong with Kipling.
From extremely durable rolling luggage to carry-on luggage favorites, Kipling has a variety of options for any traveler. Both durable and extremely functional, both hard shell and soft shell options are specifically engineered to last a lifetime. While you might need to buy a new bag every couple of years with competitors, Kipling bags are built to last.
But how are Kipling bags so lightweight? This really all comes down to the material. Technically focused from the get-go, we innovated the use of solid crinkle nylon material in our gear. Plus, the lining of each softshell bag is extremely easy to clean.
We work hard every day to lighten your step and power your curiosity to go your own way. Our brand purpose is to Live Light 24/7. This mindset drives and inspires us to thoughtfully create lightweight bags made of quality materials that help you push the boundaries of your own life.
What is the best lightweight luggage for international travel?
The best lightweight luggage for international travel is durable, stylish, and built to function as a carry-on. As you browse your options, keep an eye out for key features including the size and color.
Kipling luggage is durable and practical with enough space to carry all of your essentials. If you're in the market for luggage, there are options that are both hard-sided and soft-sided. In the United States, soft-sided bags make up the majority of the market.
For many, the exterior pockets and multiple interior compartments typical of soft-shell luggage is a major draw. Plus, they can easily expand or compress to fit into small spaces including the closet or in an overhead bin. From a fun tote bag to a soft-shell rolling suitcase, softsided luggage is built with fabric that can move with you. Most of our soft-sided bags are built with ripstop nylon that offer some structure with maximum protection.
Here are the top 3 best lightweight travel options for you:
Best Hardshell Carry-On:

If you tend to prefer a more structured bag, then you can't go wrong with the Curiosity Pocket Metallic 4 Wheeled Rolling Luggage. Engineered with a polycarbonate shell that can easily rough it at baggage claim, this hard shell bag weighs just over 7 pounds.

Best Crossbody Bag:

The Arto Crossbody Bag weighs well under 1 pound and has a variety of convenient pockets. Ideal to keep strapped to you during takeoff and landing, this is the most convenient way to keep your essential items close to you at all times. Never lose your keys, tickets, phone or passport on a plane again.

Best Expandable Spinner:

The Spontaneous Large Rolling Luggage is by far the best expandable option out there. Two external buckle straps can easily adjust to your needs. Plus four, 360 wheels guarantee full range of motion as you rush to your gate.
RELATED: Browse Kipling Carry-On Luggage Today.
What is the most lightweight luggage you can take on a plane?
The most lightweight luggage to use as a carry-on is ideally under 5 pounds. While a soft-sided bag tends to be lighter than more structured alternatives, Kipling has a few hardshell luggage options that also do the trick.
Planning a trip isn't easy, but finding the perfect carry-on bag can be. Here are a few of the best (and most lightweight) carry-on bags for you to consider before you hit the road:
Best softshell carry on:

The Darcey Small Carry-On Rolling Luggage has a soft structure exterior that's ideal for a week away. Plus, adjustable packing straps make sure you can fit all of your essentials.

Best hardshell carry on:

The Curiosity Small 4-Wheeled Rolling Luggage's structured exterior is ideal if you're bringing valuables with you because it offers added protection without the extra bulk.

Best Crossbody Bag:

If you're looking to keep your absolute essentials close to you at all times, then you can't go wrong with the Eldorado Crossbody Bag. This lightweight option is made for carrying exactly what you need on your next flight (and folds easily into your luggage once you get there.)
When choosing which lightweight luggage works best for you, don't be afraid to go with your gut.
If you tend to bring way more gear with you, pick a hardshell, rolling suitcase that will take a major weight off your shoulders. For the minimalist at heart, you can't go wrong with a nylon backpack that goes the distance. What are you waiting for? Gather the family and get going.