What can I fit in a small, medium and large backpack?
Whether you're heading to work or out of town for the weekend, we have the best backpack for you. From small backpacks to more heavy-duty luggage, go for a bag with multiple compartments and enough storage to fit your needs.
Backpack capacity is typically measured by the length and width. What you fit in your backpack depends on your plans. A medium-sized, 20 liter school bag should carry you through a full day of classes with a built-in laptop sleeve and adjustable backpack straps. However, if you're catching a red-eye flight, then you should capitalize on a large 30 liter travel backpack with key design features, including ample storage and side carry handles.
As you carefully select the right backpack size, pay close attention to the length. Your body's torso length should stay comfortably within the bag's torso range. Plus, keep an eye out for key features, including padded backpack straps and a laptop compartment.
What's the right backpack for you, and what can you fit in your new gear? Check out Kipling's backpack size guide before you get packing.
What size is a large backpack?
A standard large backpack ranges from 30L to 39L and is the ideal daily backpack for school, work, and everything in between. The volume of a bag this size is important for storing multiple textbooks, laptops and tablets, and a change of clothes for a long weekend.
Perhaps the most popular backpack size out there, pick a large backpack for a day on campus or a short trip with friends. Depending on where you're headed, keep an eye out for key features, including water bottle pockets, functional storage pockets, and a water-resistant construction.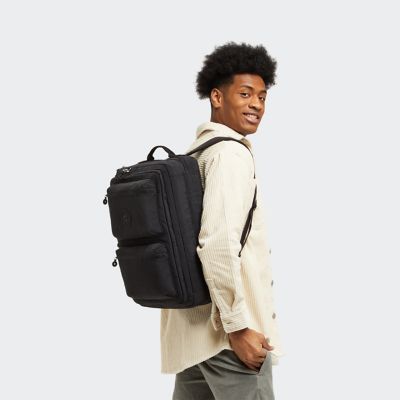 Are you planning on hitting the trail? Backpacks that exceed 40L tend to be heftier load lifters built for adventure. Anything around 45L should have plenty of space for your travel essentials.
RELATED:Browse Kipling's large backpack collection.
What size is a medium backpack?
A medium backpack is slightly smaller than a large backpack, with a volume that's approximately 15L to 29L. Medium backpacks tend to have a couple of roomy main compartments that can fit a few large objects like textbooks or camera gear with room for more essentials.
If you're partial to a minimalist look but still want enough space to store your stuff, then you can't go wrong with fan favorite, City Pack Medium. It's often seen as just-the-right size for everyday life.
From students to travelers alike, a medium backpack is a major fan favorite because they tend to hold it all, minus unwanted bulk. The best medium backpacks out there have an elastic cinch, a magnetic flap closure for added security, and have adjustable padded backpack straps.
RELATED:Browse Medium Backpacks At Kipling
Whether you're looking to upgrade your school backpack or trying out the mini backpack trend, choose a backpack that's right for you with our Backpack Finder. What are you waiting for? Go ahead, live light with Kipling by your side – we've got your back 24/7.
What size is a small mini backpack?
Generally, small backpacks or mini backpacks have a capacity of 5L to 15L. That's approximately 10.75''L x 13.5''H x 5''D. Mini backpacks are one of our favorites because they're fun, functional, and have enough space to store just what you need.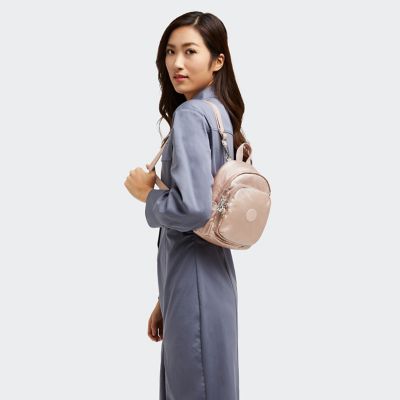 There's nothing like finding the perfect, stylish coffee table for your small apartment, right? That's why we developed a variety of small backpacks that fit just right into your daily life. From a 5L backpack to the 15L backpack, most of our mini backpacks have a front zip pocket, and adjustable backpack straps so that you can carry your essentials with ease.
What can you fit in a mini backpack? They are small, but mighty and are trending for a reason. Much like large or medium-sized backpacks, smaller backpacks have plenty of space for daily essentials. With the convenience of a backpack and the average capacity of a messenger bag, a mini backpack won't be bulky and will level up any look in minutes.
Plus, since you're carrying a little less than usual, it won't weigh you down while you're on the move. Before you head out the door, grab a Kipling mini backpack that's practical, lightweight, and stylish..
RELATED: Trending Now: Kipling Mini Backpacks