What is a weekend bag?
A weekend bag, also known as a weekender bag or a weekend case, is a piece of luggage that's the perfect size for a weekend trip. Weekend bags are usually soft-sided, water-resistant, and equipped with shoulder straps. They are typically small enough to use as a carry-on bag too.
Engineered to optimize style and durability, every good weekend bag has a spacious compartment and storage space for shoes or other essentials you'd like to keep separate from the main compartment. Ideal for travelers who need a simple overnight bag that can totally go the distance, this style bag is a must for any quick adventure.
Our team at Kipling has selected and built a variety of weekend bags that take the traditional travel bag to a new level. Our weekend bags and duffle bags are equipped with key features such as zip pockets and adjustable straps for easy access to your gear while on-the-move.
What is a weekender bag?
A weekender bag, commonly known as a weekend bag, is a type of duffle bag that is specifically designed to be used on trips that are just a couple of days long. Widely regarded as versatile pieces of luggage, our weekender bags combine the ample space of a duffle bag with the practical design elements of a gym bag.
Weekender bags usually feature an adjustable shoulder strap and dual-carry handles to easily grab your bag at baggage claim.
When it comes to practicality, material is important. We make most of our weekender bags from nylon or polyester materials for durability. Our polyester bags are both weather resistant and easy to clean.
Our weekender bags don't just reimagine design, they also rethink materials to be kinder to the environment. We've continued our promise to "Live Light" by being more responsible. Our bag linings are made with 38% recycled polyester fabric.
How big should a weekend bag be?
A weekend bag is usually approximately 17.5 inches long and 8.75 inches wide. More compact than a heavy-duty wheeled duffle bag, an overnight bag should be just large enough to hold all your essentials for a weekend getaway. We design our weekend bags with smart storage in mind. But don't let their slim shape fool you.
Keep an eye out for key features like dual carry handles, adjustable and removable crossbody straps, and slip pockets to access your essentials.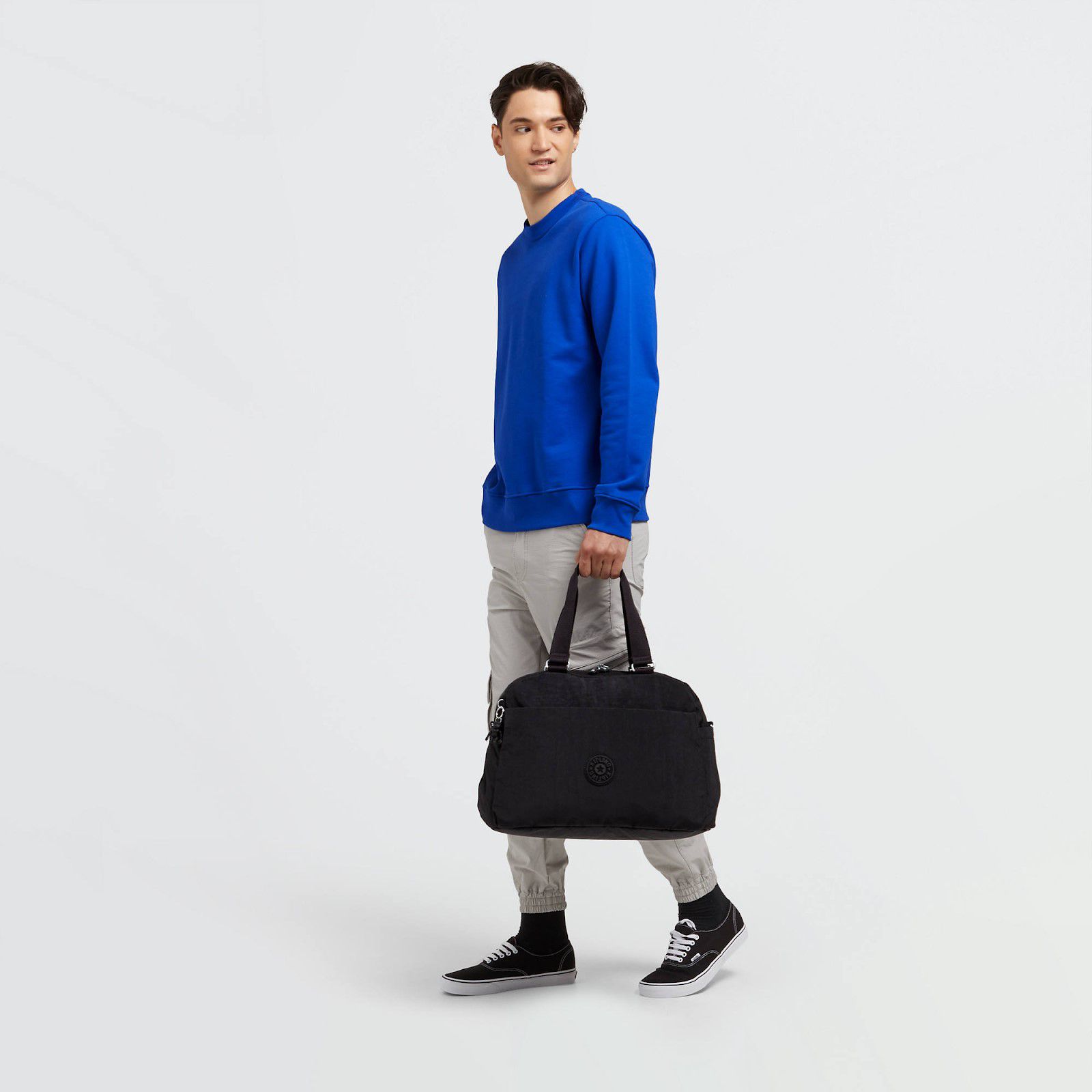 For the Win: Look for weekend bags that combine style and function.
At Kipling, we're all about making gear work best for you. That's why many of our weekend bags have a trolley sleeve, ideal for sliding onto your luggage's retractable handle for maneuvering with ease through airports, stations and more.
Whether you're headed to your friend's house for a couple of days or hiking through Europe for a couple of months, a weekend bag is a perfect companion for your must-have essentials.
Are weekender bags carry-ons?
Yes, weekender bags are suitable carry-ons if the size aligns with your airline's specific luggage requirements. While the specific regulations vary, most airlines require choosing a duffle bag that does not exceed 9 inches x 14 inches x 22 inches in size or approximately 35L in volume. Some of our weekend bags weigh just 0.25lb and boast a capacity of 26L.
Besides their compact size, weekender bags are the ultimate carry-on. Invest in a bag that's equipped with ample storage, functional design elements, and a great lightweight construction. Side slip pockets are ideal for holding your tablet or a spare magazine for that red-eye to San Francisco, while internal zip pockets are a secure place to store your passport or other valuables you'd like to keep close at hand.
Running to catch an early morning train on your commute? Sling your bag over your shoulder as you head out the door. An adjustable, removable crossbody strap can be unclipped once you get to the office for a more professional look.
What is the best weekender bag?
The best weekender bag should be water-resistant, durable, and have plenty of pockets for ease of use. Ensure you select a weekender bag that offers zip-top closure and a spacious main compartment to promote efficient storage on your trip.
The best weekender bags are designed to carry clothes for a few days. While smart storage may seem like a given, it may surprise you just how important spacious pockets and a water-resistant lining actually are.
Kipling's weekender bags are made from nylon or polyester material that are easy to clean with a wet cloth. Plus, their timeless design will never go out of style.
If you're looking to hit the road for your next adventure with only the essentials by your side, then a weekender bag might be the right fit. Here are the best weekender bags for you:
Check out our bags with easy-access side pockets and secure, zip-top closures. Carry handles make carrying your gear a total breeze.
Add a fun pop of color to your next trip with a printed weekender. Ours feature fun designs alongside the functional features of a classic duffle bag.
Whether you are craving a weekend getaway or just need to refresh your duffle bag, you can't go wrong with Kipling. Shop Kipling for the ultimate weekend and tote bags for your next adventure today.